World Polio Day is a time for Rotarians and Rotaractors across the globe to raise awareness about our work to eradicate polio for good. If we stay committed to making progress, polio will be the second human disease ever to be eradicated.

In our fight to end polio, we've used our collective strength to defeat this devastating disease in almost every part of the world. This year, the World Health Organization's African region was certified free of wild poliovirus – showing that eradication is possible even in very difficult circumstances. Wild poliovirus still paralyzes children in Afghanistan and Pakistan, and as long as polio exists anywhere, it remains a threat everywhere.

Let's Take Action
A polio-free world is possible, but we can achieve it only by taking action together. With the challenges to vaccination programs posed by the COVID-19 pandemic, it's even more crucial that Rotary continues to build awareness and raise funds for polio eradication.

Join the effort to vaccinate children and end polio by organizing a World Polio Day event for your community. In 2019, Rotary members held more than 5,900 events in 136 countries. This year, online events and activities will allow us to expand our reach even more and inspire others to join us.

Not sure how to take action for World Polio Day? From virtual event ideas to social media posts and photos, the World Polio Day Toolkit can help you start planning and promoting your activities now.
World Polio Day Online Global Update

Mark your calendars to watch Rotary's World Polio Day Online Global Update on 24 October. New this year: Those who register World Polio Day events by 15 October can download the 2020 global update program early – a week before World Polio Day.
Dear district leader,

Congratulations on achieving Peacebuilder recognition for your District! You've achieved this distinction by donating District Designated Funds to help Rotary Peace Fellows become catalysts for peace around the world.

Peacebuilder Districts like yours play a critical role in supporting the work of the Rotary Peace Centers. Each year, DDF contributions are part of the funding that allows up to 130 peace and development leaders to study at one of our seven Rotary Peace Centers. Starting in 2021, Rotary is offering a yearlong certificate program at Makerere University in Kampala, Uganda, the site of our newest peace center.

More than 1,300 alumni of the peace centers program are actively building a more peaceful world, through work that ranges from leading grassroots initiatives to helping guide policy development at the United Nations and the World Bank.

Peacebuilder Districts like yours contribute to this important work. Thank you for your continued generosity and support of the Rotary Peace Centers!
On behalf of ShelterBox Ambassador PDG Jack Young, the following Clubs have been extended our appreciation and congratulations on receiving ShelterBox HERO recognition for Rotary Year 2019-2020.
Your support is very much appreciated.
1.6 million people have been sheltered since 2000, we could not have reached them without clubs like yours.
COVID 19 has not stopped our efforts, your help has provided aid to over 87,000 people so far in 2020.
Thank you for being a ShelterBox HERO!
A ShelterBox HERO is a Rotary Club that has committed to making an impact in worldwide disaster response by giving $1,000, $3,000, or $5,000 within the Rotary year.
HERO Clubs enable ShelterBox to have the resources and time to be ready when disaster strikes by allowing ShelterBox to purchase and pre-position aid in or near countries where we respond often, resulting in a more efficient and timely response.
There are three HERO levels:
Bronze ($1,000); Silver ($3,000); and Gold ($5,000)
District 6630 is honored to have
one silver and seven bronze recipients.
To become a HERO, funds must be sent directly from the Club or a combination of gifts from individual members all sent in together.
We ask that all gifts specifically state "HERO Gift" on the check or accompanying note. Gifts via the HERO program will be designated to Deployment Essentials, directly and quickly aiding families in need.
Recognition
When a Club becomes a HERO Club, they will receive a certificate and a HERO digital badge for their website. They will also be listed on this webpage.
Upon the third year of consecutive giving, Clubs will receive a banner reflective of their giving level.
Upon the tenth year of consecutive giving, special recognition will be ordered.
Read about ShelterBox's partnership with Rotary.
Read the HERO FAQs
Questions? Email rotary@shelterboxusa.org
Silver
BURTON-MIDDLEFIELD

Bronze
BARBERTON
FAIRLAWN
LAKEWOOD-ROCKY RIVER SUNRISE
NORTHAMPTON-CUYAHOGA VALLEY
PAINESVILLE
SOLON
WESTLAKE-BAY VILLAGE
Posted by Steve Zabor
In November of 2010, when I was our district's Governor Elect, I traveled to Nigeria as part of a Rotary Project Safari led by Elise Cadigan from Rockford, Illinois. During our two weeks in Nigeria we visited many Rotary Clubs and talked about the projects they have done and those they were hoping to be able to initiate. It was in Kaduna, Nigeria that I was first able to administer polio vaccine. My memory of the young mother holding her baby while I squeezed two drops into her child's mouth will never fade. Later in the trip we visited Dr. Tunji Funsho's home and I was able to spend the night there and to share a meal with him. We talked about the difficulties faced by the polio eradication effort in Nigeria and the efforts in place to overcome those challenges. Primary among the challenges he mentioned was the presence of Boko Haram. Their goal was to create an Islamic state and reverse the Westernization of Nigeria. They were opposed to the immunization process. At one point it looked like Nigeria would be declared polio free until a little more than four years ago a child escaped from Boko Haram and was discovered to have polio. During my brief time with Dr. Funsho I could see firsthand his passion for Rotary's effort to create a polio free world and his understanding of the challenges that had to be overcome. The achievement of a polio free Nigeria is extremely significant and this recognition is well deserved.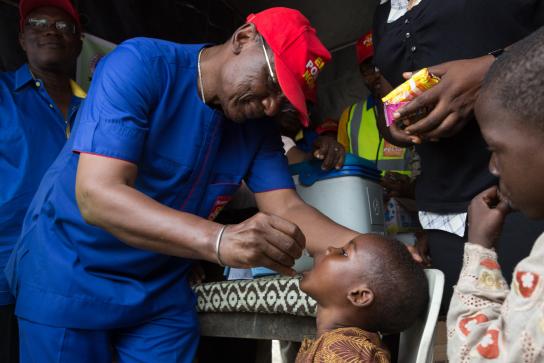 TIME 100 recognized Funsho for his instrumental leadership and work with Rotary members and partners to achieve the eradication of wild polio in the African region.
Dear Rotarians/ International PolioPlus Committee members/ Directors and Trustees,

It is with great pride that we inform you that one of our own has been named one of TIME's "100 Most Influential People in the World." Just a few moments ago, Dr. Tunji Funsho, Rotary's Nigeria National PolioPlus Chair was named to the TIME 100 list for his critical leadership in working with Rotary members and our partners to achieve a wild polio-free Nigeria and eradicate the wild poliovirus in the African region. He is the first Rotary member to receive this honor for our work to eradicate polio.

You can view Dr. Funsho's profile on the TIME website here.

Dr. Funsho is a member of the Rotary Club of Lekki in Lagos, Nigeria and is Past District Governor of District 9110 and member of the International PolioPlus Committee. Dr. Funsho is a cardiologist with a lifelong commitment to building a healthier world. As Nigeria National PolioPlus Chair since 2013, he has built on the work of his predecessors by leading PolioPlus efforts in Nigeria. Working alongside his fellow Rotarians, Dr. Funsho has built awareness for the importance of polio immunization, encouraged governments and public figures to support polio eradication, and served as a vocal leader and advocate for Rotary and our fight to end polio.

The TIME 100 list recognizes the activism, innovation and achievement of the world's most influential individuals. Dr. Funsho joins the list with some of the most important and well-known public figures in the world who have been past recipients of the honor: heads of state such as Angela Merkel, religious figures like the Dalai Lama and Pope Francis, celebrities like Oprah Winfrey and Bono, philanthropists like Bill Gates, and activists such as Malala Yousafzai.

Dr. Funsho stands on the shoulders of the countless women and men of Rotary who have dedicated their lives, their time, and their money to Rotary's top priority of eradicating polio. This honor is not just a testament to his work, it is acknowledgment that Rotary members make a difference in the world—one that is worthy of international recognition among the world's most distinguished leaders.

Every Rotarian can be a leader in the fight to eradicate polio. We hope you'll use this recognition of Dr. Funsho and Rotary as an opportunity to put renewed energy and focus into creating a world where no child ever again has to be paralyzed by the poliovirus. We've come so far into our fight to eradicate polio, and we've made incredible progress in the face of enormous challenges. As we join in congratulation to Dr. Funsho, let's join together and deliver upon our promise to End Polio Now.


Sincerely,
Holger Knaack K.R. Ravindran
President, Rotary International Chair, The Rotary Foundation
Posted by Donald Faulhaber
Marty Harris Named Unsung Hero
(Note: this ceremony took place prior to the COVID-19 pandemic but was just recently submitted to the District news, hence members are not socially distanced or wearing masks.)
The Lakewood Rocky River Sunrise Rotary club was pleased to honor Marty Harris with the 2020 Unsung Hero Award. Marty is a Charter member of the club which was chartered in 2007. Her husband, Jim was District 6630. 1993-1994. She is a Club Past President, and Chair of the Club's International Service Committee. She has been the coordinator of the Rotary International Rotary Student Exchange Program for the Sunrise Club since it started. Prior to
the founding of the Sunrise Club, Marty spearheaded that program for her husband Jim's, Lakewood Rocky River Rotary Club. Marty has a passion for supporting youth. This passion drives Marty to go above and beyond expectations. During her career as a Lakewood High School Counselor, she continuously encouraged students to expand their connection to the world by signing up the Rotary Student Exchange program. Students spend nearly one year in a foreign Country living with host families, going to school, and learning the culture of the country.
The Sunrise Rotary has hosted students from Brazil, Germany, Poland, Japan, and Norway. Marty ensures that our club is compliant with strict Rotary and US Government requirements. She finds good homes for incoming the Sunrise Club exchange students, and often helps find host families for the Other Lakewood Rocky River Rotary Club. Marty connects the students to the community, sports, and Club members. Over the years, Marty has formed a special bond with exchange students. Most keep in contact with the local club through Marty, and often return for a visit to sponsoring Club. She also gets invited to significant events, like graduations and weddings.
In addition to the Rotary Exchange, Marty steps up, whenever the club needs volunteers, from leading portions of the sunrise Club's annual fundraiser, to sorting toiletries for local charities, like Trails for Hope. Recently, she arranged for the installation of a Rotary sponsored Mini Food Pantry at her Church, the Lakewood United Methodist Church. It provides emergency food of church members and neighbors in need. She works with church youth to keep the Pantry filled.
Past President, Lynda Carter says, "The Sunrise Club is fortunate to have Marty's passion and positive can-do attitude in the club. She defines the standard for a Rotary's Unsung Hero through service to the community and club that is outstanding but often goes unnoticed."
Photo - Past District 6630 Governor, John Reyes; Past Sunrise Club President, Lynda Carter; Unsung Hero Marty Harris
Posted by Marilyn Orr
Father Joe Boysel Honored as Hudson Unsung Hero
When DG Pat Myers visited the club on September 16, she awarded the District Governor's Citation to Father Joe Boysel. Fr. Joe has been a member of our club for only 9 years, joining in February 2011. We are better because of his kindness, clarity and gentleness. He humbly brings us a message of hope and inclusion. This award is made at the discretion of the Club President and it was a very easy decision for President Marilyn. And we surprised him! Even better! It is an award well deserved.
Posted by Mary Lou Howe
Ashtabula Rotary Club Supports
Kingsville Public Library Summer Programming
For many years the Ashtabula Rotary Club has supported Kingsville Public Library's summer movie night with a contribution of $1,000.00. This year, due to social distancing challenges, the Library staff created an outdoor event for families to enjoy safely. Ashtabula Rotary was very pleased to continue our contribution for this new event. Rotarians were introduced to the project at the August 12 Rotary Meeting via Zoom by Mariana Branch, Director and A J Petro, Adult Services Coordinator of the Library. A written description of the program was provided in their August 10 press release:
The Kingsville Public Library is excited to announce the opening of Ashtabula County's first StoryWalk® on August 21st located in Kingsville Township Park across from the library. StoryWalk® is a creative and engaging way for everyone to enjoy reading and the outdoors at the same time. The pages of the children's book, "Stella Fairy of the Forest" by Marie–Louise Gay, have been transformed into signs with reader questions and ideas for an interactive experience. This activity was created by Anne Ferguson of Montpelier, Vermont and has continued to develop with the help of Rachel Senechal, from Montpelier's Kellogg-Hubbard Library. StoryWalks® have been installed in 50 states and 12 countries including, Germany, Canada, England, Bermuda, Russia, Malaysia, Pakistan and South Korea. "We wanted to find another outdoor library activity for the community to enjoy when we realized the summer outdoor movies would need to be postponed until next year for public health and safety. With the support of the Kingsville Township Trustees, allowing us to set up in the park, and the generosity of Rotary Club of Ashtabula, funding the purchase of materials and books, it was the perfect time to introduce this StoryWalk® activity," said Mariana Branch, Director. "Our creative library staff also decided to hold the Imagine! Storybook Cover Contest to have a creative display of oversized 3-D book covers around the library and near the park to view."
A virtual ribbon cutting will take place on Facebook at 10am on Friday the 21st and both the StoryWalk® and Storybook Cover Park will be open for the public to enjoy by walking through or driving by during the month of September. To make this grand opening extra special, popular book characters will be waving to visitors who are driving through Storybook Cover Park on Academy Street from 10am-11am. Visitors may stroll through the park starting at the sidewalk into the park on Academy Street and follow the numbered signs. Caregivers with children are encouraged to read the story out loud and have the children answer the active reader questions. Social distancing is requested from all visitors participating in these activities.
Posted by Robert Rees
Club Installs Informational Plaques on Ohio Tow Path Trail
In spite of the numerous events of 2020 taking place this administrative year, the Rotary Club of Barberton, Ohio is doing all it can to make things better for our community and its citizens.
First, with the help of matching funds from the Rotary district and R.I., the Club was able to support the installation of three (3) informational plaques along the Ohio Tow Path Trail. While we recognize all of the Club members for their efforts in providing the necessary funds, we thank all of the people responsible for making this endeavor possible.
| | |
| --- | --- |
| Tow Path Trail off Snyder Ave. | |
The group was joined at the Ribbon Cutting by the Barberton Hearld newspaper which published a great story about the signs and Rotary's help in funding them. The Mayor, William Judge along with additional representative from the community and the Barberton Library which assisted in the research for the signage.
---
Barberton Rotary Cleans UP!
(Monthly at McCafferty Park)
The Rotary Club of Barberton has taken on the responsibilty of physically cleaning up the community. Weather permitting, during the Club's last meeting in each month, the members of Barberton Rotary put on masks and gloves and clean up one of the City's Metro Parks used a great deal by young people.
Unfortunately because of its relative remoteness, it collects a good bit of trash and junk. Rotary cleans up the Playgounds, picnic area, and the parking lot of unacceptable forms of debris. We get precious little community recognition, but the smiles and laughter of the kids who can now play in a safer, cleaner environment, really make up for that.
Posted by Linda Kramer
Nostalgia time as Rotary revisits music of the 1960s
John Fred and His Playboy Band

were part of the
One-Hit Wonders of the 1960s.

Thanks to Dr. Joel Keller for sharing his video presentation of One Hit Wonders of the 1960s to Berea Rotarians on Tuesday, Sept. 22. We were tempted to dance and sing along.

Dr. Keller, a retired podiatrist, has collected videos and musical history from the early days of Rock n Roll. He coupled that with history of the times to give a nostalgic trip back to high school and college days – at least for some of us.

Music included these Oldies: "Teen Angel" by Mark Dinning, "Mother-in-Law" by Ernie K-Doe, "Hey, Baby" by Bruce Channel, and instrumentals such as "Stranger on the Shore" by Acker Bilk, "The Stripper" by David Rose and "Telstar" by the Tornadoes.

John Fred and His Playboy Band ended our night with "Judy in Disguise (with Glasses)" – a parody of the Beatles "Lucy in the Sky with Diamonds."

All of these performers and their recordings were One-Hit Wonders – never to appear on the Top 40 charts again. But, hey, they were great for those Sock Hops and class reunions.

Guest Sharon Lerch from the Rotary Club of Cleveland recalled that her husband's brother-in-law was Jamie Lyons of the Music Explosion, a garage band from Mansfield. Their one-hit wonder was "Little Bit 'O Soul," which reached No. 2 on the charts.

Jim Walters said a friend's local band was just getting started in the 1960s when a newcomer named Peter Thorkelson applied as a keyboardist and guitarist. He was rejected but went on to be Peter Tork of The Monkees.

If you have stories of your own encounters with One-Hit Wonders, save them for next time. Dr. Keller was a huge hit and we'll have him back.
---
We make five more Kiva loans
Matt Lombardi, Kiva chair, made five more Kiva loans, bringing our total to 817 loans with a value of $20,475.
The recent loans were made to Guatamala, services; Paraguay, personal use and food; Rwanda, agriculture; and Nicaragua, retail.
The loans were made to support clothing resale supplies, food supplies for vending, agriculture supplies and retail beauty supplies. There also was a new venture – the ability to refinance and consolidate debt and take advantage of low interest rates.
All loans were made to individuals who are going into their third loan cycle or higher.
Posted by Bob Oborn
The Rotary Club of Stow-Munroe Falls, like many other clubs, has been adversely affected by the COVID-19 virus. We went from in person meetings to virtual meeting in March as the pandemic gripped our nation. We had to cancel our golf outing scheduled for June due to the virus. We have two main fundraisers that fund all the great things our club does. The golf outing and our reverse raffle. After cancelling the golf outing we were wondering how we would do the reverse raffle that usually has over 250 people in attendance.
Our board met virtually as we discussed our options for the reverse raffle. We began talking about holding it virtually, but had no idea how we would do it. It came to us that we may be able to do it by Zoom. With the proper license with Zoom, we could have virtually an unlimited amount of participants. While our traditional reverse raffle had side board betting and a Silent Auction, we had to limit what we could do. We decided to sell 150 tickets at $100 per ticket and have three prizes. First place would be $2,000, 2nd and 3rd place would be $500. We wouldn't be able to pool the last five into sharing, as that would have been too difficult. Now we had to figure out how we would sell the tickets.
We decided we would do it word of mouth. If a person was interested, we would mail them a ticket with a self-addressed envelope included to mail back the stub and the money. The stub would include their name, phone number and email address. The latter is important as that is when we need to do the virtual raffle. We started by selling the first 125 tickets as we did not know how it would be received. We found out quickly that people are still quite generous and want to help clubs that do good things.
One thing that our club has that made this event a success is great members who care. One member; Dick Hall, was very impressive. Dick sold over 55 tickets himself! Virtually all our member stepped up and bought and sold tickets. In a little over one month we were completely sold out. We have collected over half of the money, and each day more comes in. We also collected gift cards donated by our members for prizes. The first person out, every 10th ticket and the last two tickets out before the prize winner all would get a gift certificate. Those were donated as well.
As far as the actual drawing, our club has a reverse raffle board. We will stage this at the community center in Stow, where we will have 5 members, socially distanced, who will draw the numbers. We have not quite figured out what we will broadcast the Zoom meeting with, but my daughter has volunteered to do it by her phone!
So that is our story. We have all had our lives turned upside down by the pandemic. Rotarians are a special breed. We find ways to help in any situation. Although this raffle will be way different, we will still be able to fund all our projects. I hope our event goes smoothly, I am sure there will be glitches. But in the end, we continue to give back due to the generous hearts of our participants.
Yours in Rotary Service -
Rotary Club of Stow-Munroe Falls, Fundraising Chair
Rotary District 6630 Assistant Governor and Rotaract Chair
FOX 8 News Aired Feature on Akron Club Social Project
Thank you to FOX 8 producer Rachel Inch for airing our

Lets be Social...Apart

social project initiative featuring several
Akron Rotarians who have already participated.
The below story from Katy provides you with all the details!
Let's be Social . . .Apart
Posted by Katy Miller
Hello Rotarians!
Well, since we can't be social in person yet, how about a fun way to be active and social in tandem with your fellow Rotarians?
Here is a fun idea I came up with as your Social Chair to participate in the Summit County Metro Parks Fall Hiking Spree together but apart.
As Julie Brandle, our Assistant District Governor shared, The Rotary Foundation Trustees and Rotary International Board of Directors have both unanimously approved adding a new area of focus: supporting the environment. This seems like an opportune time to get out there and reconnect with our local environment, Maybe a project that supports this focus will come to mind as you are enjoying our park system.
This years theme for the Fall Hiking Spree is From Fields to Forest. This year, the Fall Hiking Spree celebrates the rich history of the properties they proudly manage for our enjoyment and their successful return to nature. Take a journey on this year's spree and explore the former farms and fields that are now forests.
As you hit the trails, snap a picture on your trail of choice, pre hike, while on the hike or post hike and send to me, You can email me, text me or post to Facebook, Instagram or Twitter using the hashtag #AkronRotaryHikes
Each week I'll collect the photos and post to our Rotary Club of Akron FB Page and our Akrotarian to see your fellow Rotarians out taking advantage of our amazing park system.
Please remember that if you choose to hike with fellow Rotarians while distancing, please keep your distance in your photo! I will not be featuring photos that don't follow social distancing guidelines.
Anyone who finishes the whole spree, and sends me a copy of their completed form will be entered into a drawing for a Fall Basket of goodies!
Here are the links of the form and trail choices.
Let's get out and enjoy the Fall season together....apart!
Katy Miller, Akron Club Social Chair
Posted by Mella Castner
Fellow Rotarians, it's that time again! Help Akron Rotary Camp earn $ to send kids to Camp! Save your ACME receipts from August 6 to December 26 to earn some Community Cash Back on ACME Fresh Market Store Brands. Receipts can be mailed or dropped off to Akron Rotary Camp, 4460 Rex Lake Drive, Akron, Ohio 44319. As always, thank you for your support!
Regards,
Mella Castner
Director of Development
Akron Rotary Camp
4460 Rex Lake Drive
Akron, OH 44319
330.644.4512 ext. 3206
330.322.7206
www.rotarycamp.org
To Place Your Order, Visit:
Available for Pickup: October 17th 9:00am- 12:00 pm
All Proceeds Benefit the Rotary Club of Green and Future Community Projects
Medina Patriots Day Celebration Inspires
by Bob Finnan The Gazette
MEDINA — The Patriots Day ceremony on the 19th anniversary of Sept. 11 was inspiring to many Friday at the 9/11 Memorial behind Medina Fire Station 1.
On a marble slab, Todd Beamer, a passenger on United Airlines Flight 93, is quoted by saying, "Let's roll."
He led the charge on the flight to stop the terrorists from possibly crashing into the White House. The plane then crashed in Pennsylvania after flying over Medina County.
Before leading the charge, he recited the Lord's Prayer and the 23rd Psalm with the other passengers. Psalm 23 reads: "The Lord is my shepherd; I shall not want. He maketh me to lie down in green pastures: he leadeth me beside the still waters. He restoreth my soul: he leadeth me in the paths of righteousness for his name's sake."
Medina's David Lariviere, of the U.S. Army, said he's heard the actual flight recordings from that day and that Beamer's words make the hair on his neck stand up.
"He was appealing to someone higher," he said Friday after the ceremony.
Lariviere said next year's celebration will be extra special when a group of ministers will consecrate the memorial.
"It will be on sacred space or hallowed ground," he said.
Medina Sunrise Rotary President Kevin Wermer said the ceremony Friday was to memorialize the people involved in that fateful day. He and his wife were both born Sept. 11 the same year. They were in Hilton Head, South Carolina, on 9/11.
"Ever since that day, we've not celebrated our birthday on that day out of respect for what happened," Wermer said.
He said they celebrate their birthday the following day.
"It all changed for us in 2001," Wermer said. "This is a remembrance for those we lost. We want to honor their sacrifices."
Medina Mayor Dennis Hanwell said Medina's 9/11 Memorial was dedicated July 28, 2018. The Sunrise Rotary's Dr. Kelly Low raised funds to build the memorial.
"It seemed fitting and proper (for it to be located behind the fire station)," Hanwell said. "It will continue to be a lasting memorial. We can pass this on to future generations."
A steel beam from one of the Twin Towers in New York City is the main focus of the memorial.
"9/11 has touched each of us in some way," Medina Fire Chief Bob Painter said.
Posted by Jim Lechko
Pull out your September issue of "Rotary".
Julie is President of the International Fellowship of Birdwatching Rotarians and is quoted a number of times throughout the article.
You will find that the Black-capped chickadee is a favorite of Julie's.
Foundation Chair District 6630
Posted by Jack Young
Another 105 Dolls for the House of Unwed mothers in Nicaragua will be on its way to Nicaragua this year. Helen Shurance, now 94 years old from Seville, Ohio has hand crochet 105 more dolls to be sent the children of the Dump this year. After an article appearing in the local newspaper several years ago, she contacted PSG Jack Young and wanted to help in some small way. Therefore, during this time she has sent over 500 hand made dolls for the new born children at the Women's
pregnant shelter in Chinnendega, Nicaragua.
This year at 94 years young she continues her dedication to this process for the women and children that our district has supported since 2006. During the Governors year, PDG Bev presented her a special award at the RC of Wadsworth meeting as a Rotary supporter of what we do as Rotarian's.
This year Helen could not be at a RC Meeting with all that is going on, but still continued her commitment in doing something for these children in Nicaragua. We thank her for her dedication and wanting to help others during her 94 years of service.
Jack A. Young, PDG 2005-06
American Nicaragua International
Hope and Relief Foundation - Board
Why It's Worth Your Time! How It's Different from Other Training!
This will be a unique opportunity to:
network online with other Rotarians;

get a quick, 20 minute overview of four key Rotary initiatives;

take a deeper, 60 minute dive into one of six specific areas of interest;

get a quick, 15 minute update on Rotary's progress toward global Polio eradication;

hear a humorous and motivational message about Rotaract;

get new ideas on building your club's membership;

hear from the Rotary International President-Elect Shekhar Mehta or Foundation Trustee Ian Risely;

get tips on leading your Rotary or work team through a crisis;

support our Zone service projects

and more, all without having to pay for registration, meals, travel or lodging!
The 2020 Virtual Summit is what we used to call our "Zone Institute". It is designed to let Rotarians share information, build connections, and exchange ideas about Rotary International and The Rotary Foundation.
Our 2020 Virtual Summit will start at 8:00 a.m. (Central Standard Time) on Saturday, October 10 th and will wrap up at 3:30 p.m. when the last breakout sessions conclude. The entire event is online, so you'll incur no travel, lodging, or food costs.
In the morning, we'll get updates on our final push to end Polio, timely thoughts on diversity, an energetic pitch on "Do Goodery", and learn how to be better leaders in times of crisis and disaster. For first-timers, there will be quick overviews of Rotary's Membership, Public Image, and Rotary Foundation initiatives.
Afternoon breakouts chosen at registration, will engage you with in-depth discussions about our new Area of Focus, Supporting the Environment, Grant ideas for your club or district, engaging younger members, continuity in planning from year-to-year, public speaking, and more.

Visiting our House of Friendship will allow you to dive deeper into a variety of Rotary experiences, shop our vendors and network with old and new friends.
There is no registration fee, so be sure to invite others in your club and district to join you in attending. If you can do so safely, you and others may want to get together in one place to watch on a big-screen TV, where you can also enjoy each other's company. We look forward to seeing you virtually on October 10th.
Please refer to our Zone Website for additional event details and updates. Let's all Take Rotary By Storm!
Floyd Lancia
Rotary International Director Zones 30-31 2019-21
Catherine Taylor Yank
2020 Zone Summit General Chair

For questions contact registrar
Jill Pietrusinski
jspietrusi@yahoo.com


| | |
| --- | --- |
| | |
| | |
| --- | --- |
| | Engaging the next generation of Rotary leaders |
Show how your Interact club takes action
Share how your Interact club members are taking action across the globe, in your community, and in yourselves in the 2020 Interact Awards.

NEW this year, we're inviting Interact clubs to submit a video, photos, and/or an essay showcasing their club's service projects or leadership development activities.

Submit your nomination by 1 December 2020 for a chance to be named "Best Video," "Best Photo," or "Best Essay" and receive funds to support your Interact club's next project. Rotary clubs, Rotaract clubs, teachers, and parents can all work together to make your Interact club's vision a reality.
Share your Rotaract expertise
Share your expertise at the 2021 Rotaract Preconvention in Taipei, Taiwan! Submit a breakout session proposal or volunteer to be a sergeant-at-arms or social media ambassador by 1 November.

Rotaractors, Rotarians, Rotary alumni, or Rotary partners may propose breakout sessions. The Rotaract Preconvention is currently scheduled to be an English-only meeting.
RESOURCES
One of the most important things your club can do is nurture and sustainably grow your membership. Surveys have shown that prospective members are attracted to our clubs that offer them flexible formats. It's also critical to encourage participation by offering people service projects that create lasting change in their communities. See some of the ways that clubs are being innovative and watch this video about the importance of providing a variety of formats for potential members.
Get ready for Reconnect Week
During Rotary Alumni Reconnect Week, 5-11 October, Rotary members and alumni will gather to share their experiences, network, and exchange ideas for staying involved in Rotary. Join the action! Create a post on social media and tag it #RotaryReconnect. Hold a virtual meeting with alumni to share ideas. Invite an alum to speak at your online club meeting. Read inspiring profiles of alumni who are making a difference. And visit our Reconnect Week page for even more ideas.
Rotary Representative Network helps us succeed globally
Rotary shares a humanitarian mission with the United Nations to advance peace and improve the lives of those most in need. Helping Rotary strengthen this connection is the Rotary Representative Network — volunteers who are appointed annually by the RI president to represent Rotary to the United Nations, its specialized agencies, and other international institutions. The network advocates for polio eradication and other humanitarian issues. Members of the Rotary Representative Network also serve as the lead organizers of Rotary Day at the United Nations.
| | |
| --- | --- |
| | |
Knowing what it takes to conquer polio, survivors refuse to crumble under a new threat
Paul Engleman was two years old when he was diagnosed with polio in 1955. One of the lucky ones, as his mother would say, he was not paralyzed by the crippling disease that sometimes kills. Now, he is in the age group that is more susceptible to a new threat, COVID-19. A frequent contributor to Rotary magazine, Engleman describes what it is like to survive polio and live through the COVID-19 pandemic and talks with polio survivors determined to eradicate polio.
Read the story
As a district governor in 2013, Eva Kurniaty helped a small, struggling club in Indonesia set up a global grant project to engage members. The project channeled fertile mountain runoff into an unproductive swamp, creating rich paddy fields. Now the club is thriving, and the local farmers have a higher income.

Learn the power of service projects to revitalize your club

.
New courses available on leadership
A series of leadership courses in the Learning Center will help you achieve your professional goals and grow as a speaker. Part of

our alliance with Toastmasters

, the newest courses walk you through fundamental leadership skills like motivation, integrity, and team inclusiveness. You'll also discover how ethics, decision making, goal setting, and delegation help you develop skills necessary to lead a team effectively.

Learn more
Get ready to Raise for Rotary
Fundraising is about to get personal at Rotary with a new online and mobile-friendly program for members and supporters, called Raise for Rotary.
Learn more
© Rotary International
One Rotary Center, 1560 Sherman Ave., Evanston, IL
60201-3698, USA
| | |
| --- | --- |
| | |
Tunji Funsho named one of TIME's 100 Most Influential People
| | |
| --- | --- |
| Dr. Tunji Funsho, chair of Rotary's Nigeria National PolioPlus Committee, joins 100 pioneers, artists, leaders, icons, and titans as one of TIME's 100 Most Influential People. TIME recognized Funsho for his instrumental leadership and work with Rotary members and partners to achieve the eradication of wild polio in the African region. Read more | |
Your passport to adventure
| | |
| --- | --- |
| Youth Exchange students often say their experience abroad was the best time of their lives. The program can be life-changing for Rotary members as well. Read more | |
| | | |
| --- | --- | --- |
| Nominations are now open for Rotary's Service Above Self Award. The award honors Rotarians – and now also Rotaractors – who help others by volunteering their time and talents. | | |
© Rotary International
One Rotary Center, 1560 Sherman Ave.,
Evanston, IL 60201-3698, USA
| | | |
| --- | --- | --- |
| | | |
Ideas for Strengthening Rotary's Brand October 2020
NEW! Videos Added to Rotary's Public Service Announcement Campaign
Rotary's newest PSA video, Rotary Responds, shows how Rotary members take action in times of crisis. Visit
rotary.org/brandcenter
to download and share Rotary's latest PSA video.

Get more information on how you can get involved in this exciting campaign at the U.S. Public Service Announcement Campaign Learning Topic on the
Learning Center.
What's New on the Brand Center?
Template for Virtual Meeting Backgrounds


Create your own club-branded virtual meeting background with our new Template for Virtual Meeting Backgrounds. It's easy to use and takes a few minutes to create. It can be found under Club Resources in the Materials section.

Videos

Watch the video "Anytown," to find new ways to adapt and grow Rotary membership.
"Voices of Members," shows members from around the world and their COVID-19 projects.

Guidelines

Find Rotary Face Mask & Hand Sanitizer Guidelines and new End Polio Now Logo Visual Guidelines in the Guidelines section of the Brand Center.
What's New on the Learning Center?
Promoting Your Club as People of Action

Take this course to learn how to build awareness of Rotary and the impact your club makes ins the community by promoting your club as people of action.

Our Logo: Representing Rotary

Learn how you can strengthen Rotary's brand by using logos in accordance with our global guidelines. This course will show you how to customize your Rotary, Rotaract, or Interact logo for your club, district, or zone.

Virtual Convention Breakout: The Rotary Brand

Learn about the importance of promoting Rotary to the public in a consistent and compelling way. This presentation includes in-depth discussions with experts on how clubs can strengthen and protect our brand.
People of Action helps define Rotary for those who don't know us. Describing and showing Rotary members taking action in their communities creates a personal connection with the public and expands our reach.
Do you have an example of your club taking action in your community?
Submit your story
, and you might be featured in an upcoming ad, newsletter, or convention breakout!
Rotary International
One Rotary Center, 1560 Sherman Ave., Evanston, IL 60201-3698, USA
Deadlines for your articles for the 2020-2021 are below (these are always subject to change at the discretion of the DG)
October 19, 2020

November 16, 2020

December 15, 2020

January 20, 2021

February 19, 2021

March 19, 2021

April 20, 2021

May 20, 2021

June 18, 2021
HOW TO SUBMIT AN ARTICLE:
2. Remember to include your name, the club name, and send pictures and flyers as attachments. Include the names of those in the photos too!
3. Be certain that you have permission to use the photos, and for anyone who is under the age of 18, please confirm that you have a parent/guardian release on file.

Due to the electronic nature of the e-news, we cannot guarantee content will remain formatted as sent, but will do our best.